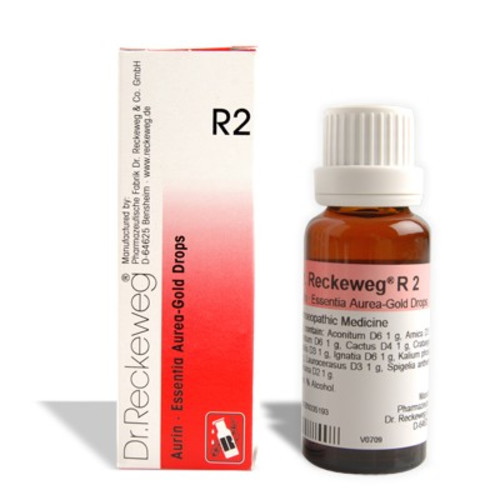 Dr. Reckeweg R 2 Commonly prescribed German homeopathic cardiovascular medication used to treat arrhythmia, cardiac neurosis.
Dr.Reckeweg R2 drops to deal with indications of coronary illness like unpredictable heartbeats or unusual heart rhythm. This German homeopathy medication tends to practical and natural illnesses of the heart like cardiovascular sicknesses (heart depression), unusual heartbeat, serious chest torment because of choking of heart spreading to other body parts (likewise called angina pectoris), failing supply routes. Different signs of R2 are respiratory failure (myocardial infarct), coronary illness.
Clinical Indications of R2 Drops
Nervous perturbations of the heart, arrhythmia, tachycardia, extra-systoles, constrictions, Angina pectoris, Coronary insufficiency, Coronary sclerosis, Myocardial rheumatism, Stenocardia.
Arnica D3, Aurum Chlorat. D6, Cactus D4, Digitalis D3, Ignatia D6, Laurocerasus D3, Spigelia D3, Valeriana D2, Crataegus Q, Kalium Phosphoric D4, Aconitum D6.
Dosage of R2 Drops
According to graveness, in the beginning, 3 to 6 times a day 10 to 15 drops of Dr.Reckeweg R2 drops in some water in acute cardiac affections, every 1/4to1/2 hour 10 to 15 drops until improvement sets in.